Contact:
Jon Mills – Director, External Communications – Cummins (317) 658-4540
jon.m.mills@cummins.com
Melissa Roberts, Chief of Staff, Energy Systems Network/Battery Innovation Center (317) 501-4136 melissa@energsysystemsnetwork.com
October 18, 2018
Cummins Electrified Power Segment Teams with
Battery Innovation Center to Support Growing Business Needs
Center provides resources in technical validation, talent development, and safety
COLUMBUS, INDIANA – Cummins Inc. (NYSE: CMI) is leveraging Indiana's own resources and expertise to help make the state a hotspot for electrified power systems. Cummins has partnered with the Battery Innovation Center (BIC) in southwest Indiana to receive support in the testing and validation of its next generation battery systems and customized training for its workforce.
Over the last year, Cummins has made a number of investments, acquisitions, and announcements as it continues to bring its customers a diversified portfolio of power solutions, which now includes hybrid and fully electric systems. Acquisition of key battery expertise spans from Oregon to the United Kingdom, as well as the opening of the company's first Silicon Valley hub for electrified power system development and prototyping.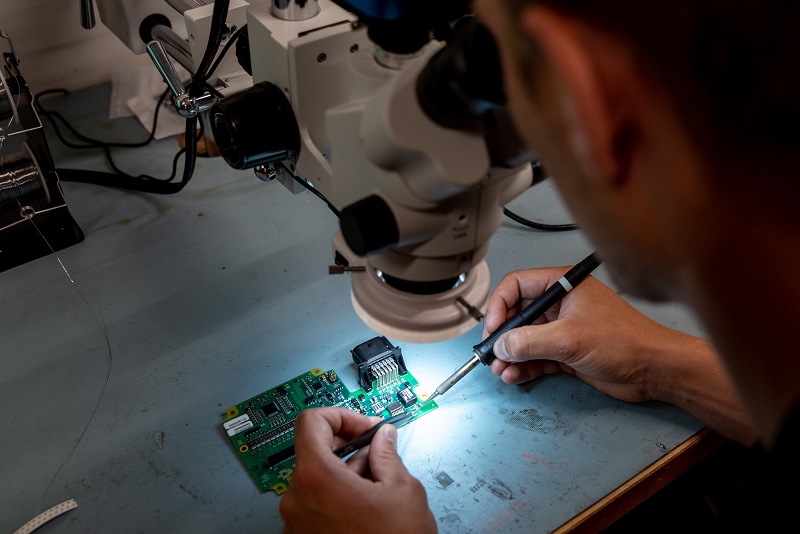 "Building and supporting our full range of electric storage capability globally would not have been possible without BIC's dedication to helping train our employees, as well as validate and test our battery systems, in Cummins' headquarters state of Indiana," said Julie Furber, Executive Director – Electrified Power. "By partnering with BIC, we have tapped into its deep expertise and battery testing infrastructure. Our partnership has not only accelerated the launch of Cummins' new electrified power portfolio, but is also nurturing Indiana's electrification ecosystem. Together, we are developing processes, systems and ideas that may lead to critical technologies of tomorrow."
The BIC partnered with Cummins over the last 18 months to serve an important role in testing and validating its new technologies – from battery management systems, battery pack development, product testing and safety testing. The Cummins prototype teams utilize the BIC's facility in Westgate Technology Park @ Crane and leverage their engineering expertise for electrified powertrains.
In addition to hands-on technical development and testing, BIC also supports the talent development and acquisition strategy for Cummins. BIC has customized their existing multi-day Energy Storage Short Course, which is Continued Education Unit (CEU)-accredited, to fit the specialized needs of Cummins employees. Currently, there are more than 1,000 Cummins team members who are in the process of completing BIC courses on topics ranging from advanced energy storage technology and chemistry, to implementation and safety.
"The courses we've developed for Cummins have been geared toward a broad range of skillsets – leadership, engineers, technicians, regulatory personnel – with the ultimate goal of reaching all Cummins employees with this specialized training," said Ben Wrightsman, President and CEO of the Battery Innovation Center and executive vice president of Energy Systems Network. "It's also allowed us to expand our reach to higher education in order to create a better talent development pipeline for Cummins through partnerships with Vincennes University, Electude, and Purdue University on energy storage curriculum."
The partnership between the organizations also extends to their facilities services, conducting safety analyses of current Cummins facilities for the ramp up of these technologies along with future planned or newly acquired facilities.
"As we look ahead, electrification innovation will continue to rapidly evolve. Embracing and enabling these trends is at the forefront of Cummins' strategy," said Furber. "We are grateful to have a partner like the BIC that we can rely on to help us harness and lead in these future technologies, which are designed by some of the world's smartest and most innovative geniuses – Hoosiers. It's exciting that together, we are putting Indiana on the map as a hotspot for electric talent and innovation."   
###
About Battery Innovation Center
The Battery Innovation Center is a public-private partnership and not-for-profit organization that partners with leadership from commercial enterprises, world-class universities, and government organizations to focus on rapid development, testing and commercialization, and training of safe, reliable and lightweight energy storage systems for commercial and defense organizations. Located in the Westgate Technology Park adjacent to Naval Surface Warfare Center, Crane, the Battery Innovation Center provides both a virtual collaborative network of capabilities needed for development of next generation energy storage solutions as well as a state-of-the-art $15.6 million advanced energy research lab.  The BIC is also home to Underwriters Laboratories (UL) Battery Energy Storage Test lab (BEST). For more information, please visit www.bicindiana.com.
About Cummins Inc.
Cummins Inc., a global power leader, is a corporation of complementary business segments that design, manufacture, distribute and service a broad portfolio of power solutions. The company's products range from diesel and natural gas engines to hybrid and electric platforms, as well as related technologies, including battery systems, fuel systems, controls, air handling, filtration, emission solutions and electrical power generation systems. Headquartered in Columbus, Indiana (U.S.A.), since its founding in 1919, Cummins currently employs approximately 58,600 people committed to powering a more prosperous world. Cummins serves customers in about 190 countries and territories through a network of some 500 company-owned and independent distributor locations and approximately 7,500 dealer locations. Cummins earned about $1 billion on sales of $20.4 billion in 2017. Press releases can be found on the Web at www.cummins.com. Follow Cummins on Twitter at www.twitter.com/cummins and on YouTube at www.youtube.com/cumminsinc.