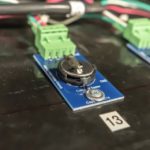 Website TheBICIndiana The Battery Innovation Center
Promote advanced learning and education in the energy sector
The Battery Innovation Center (BIC) is seeking a qualified, innovation focused, Test & Evaluation Manager to join our team.   The ideal candidate must have the desire to work in a fast paced, flexible work environment with the willingness to apply their skills and expertise to all facets of the battery research and development.  They will directly interface will all individuals in the organization, and externally with our clients.  The BIC offers competitive pay, paid holidays, incentive programs, health/dental/vision benefits, and a retirement match.  
Salary Range: $106,000.00 – $125,000.00
Position Summary 
The Test & Evaluation Manager is responsible for facilitating programs and projects to realize the intent of testing protocols and processes in the Test & Evaluation Team. Also ensures Test & Evaluation Team capabilities and capacity are compliant with the BIC's mission statement and vision.
Essential Duties and Responsibilities
The essential functions include, but are not limited to the following:
Monitor team projects, with regards to project status, completion time, and any problems that may have arisen during the course of the project to accurately assess resource needs and BIC impact.
Identify opportunities for improvement and gaps in testing and engineering process and procedures, personnel skill sets and equipment/capabilities, and ensuring team capabilities and techniques remain at the forefront of advancements in the industry.
Attend client meetings to discuss team opportunities; identify client needs and evaluate alternative business solutions as well as present and explain proposals, reports, or findings to clients.
Perform administrative functions, such as reviewing or writing reports, approving expenditures, or enforcing rules.
Conduct various performance tests in accordance with test criteria established by the approved statement of work, procedures, and/or written test plans and maintain company standards of accuracy in records of test results, report results to the appropriate parties.
Operate required machinery and equipment in a safe manner following established safety rules, maintain a neat and clean work area, follow established tool and instrument control procedures, and report any unsafe acts or conditions to the immediate supervisor.
Team management: utilize team members to their fullest potential, encourage collaboration, mitigate conflict, foster positive communication, acknowledgment, and appreciation.
Track team lessons learned and share evaluations with team members when appropriate.
Ensure deployment of appropriate methods for testing and calibration services offered by the laboratory.
Supervise technical personnel.
Arrange incoming inspection of laboratory supplies and laboratory equipment.
Participate in supplier selection process.
Ensure calibration of laboratory equipment and reference standards.
Identify the training needs of personnel working in the testing department.
Assist in conducting internal audits and supplier audits.
Perform other related duties as required.

 
Minimum Qualifications (Knowledge, Skills, and Abilities)
Bachelor's degree in Electrical/Mechanical Engineering or Technology or the equivalent combination of education and experience
5 years of Industry Experience.
Knowledge of electrical engineering practices and principles
Prior Project/Team Management experience
Pleasant and confident demeanor when dealing with colleagues and clients.
Experience in testing processes, equipment such as multimeters, oscilloscopes, function generators, soldering equipment, and test techniques related to battery electrical systems.
Must possess familiarity with software development such as Veristand, MATLAB, Lab View, C++, C#, Embedded C, and Python.
Must possess the ability to communicate both orally and in writing.
Ability to communicate difficult/sensitive information tactfully.
Physical Demands and Work Environment 
The physical demands described here are representative of those that must be met by an employee to successfully perform the essential functions of this position. Reasonable accommodation may be made to enable individuals with disabilities to perform the functions. While performing the duties of this job, the employee is regularly required to talk or hear. The employee frequently is required to sit. The employee is occasionally required to stand; walk; use hands to finger, handle, or feel; reach with hands and arms; climb or balance; and stoop, kneel, crouch, or crawl. The employee must frequently lift and/or move up to 40 pounds and occasionally lift and/or move up to 40 pounds. Specific vision abilities required by this job include close and color vision as well as the ability to adjust focus. While performing the duties of this job, the employee is occasionally exposed to moving mechanical parts, fumes or airborne particles, toxic or caustic chemicals, risk of electrical shock, and explosives. The noise level in the work environment is usually moderate. However, in some instances, this job may require work in areas where ear protection is necessary.