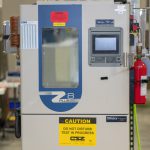 Website theBICindiana The Battery Innovation Center
Promote advanced learning and education in the energy sector
 To be in compliance with our ITAR status, the candidate must be a US Person, or a lawful permanent resident (as defined by 8 U.S.C. 1101(a)(20)), or a protected individual (as defined by 8 U.S.C. 1324b(a)(3)). 
 The Battery Innovation Center (BIC) is seeking a qualified innovation-focused Test and Engineering professional to join our team. The Test & Evaluation Team Lead oversees Test and Evaluation test and data collection activities, usage of related equipment, and approves designs for component systems, fabrication of prototype components, and test fixtures for lab and field testing. The Test & Evaluation Team Lead fulfils all necessary duties to help the Test & Evaluation Manager with maintaining a high-functioning and productive work environment, hiring and evaluation of team members, and helping with high priority projects, management level tasks, and improving team morale. 
The ideal candidate must have the desire to work in a flexible work environment with the willingness to apply their skills and expertise to all facets of battery testing, validation, evaluation, and advisory. Preferably, they should be eager to take the initiative and capable of working with limited oversight. They will directly interface will all individuals in the organization along with BIC customers. The BIC offers competitive pay, paid holidays, incentive programs, fully paid health/dental/vision benefits, and retirement plan. 
Responsibilities and Duties 
Essential Functions/Job Responsibilities: 
• Utilize team members to their fullest potential, encourage collaboration, mitigate conflict, foster positive communication, acknowledgment, and appreciation 
• Keep immediate supervisor up to date on all team project status, completion time, and any problems that may arise during the course of the project that have the potential to impact cost and/or timeline. 
• Oversee, implement, and create robust test setups for various performance and abusive tests. This includes having a thorough understanding of all testing setups used on a normal basis within the organization. 
• Establish and maintain policies and procedures and/or writing test plans; maintain and oversee records of test results; review reported results from the team as necessary.
Create, oversee, and implement test setups for comparative analysis utilizing various types of equipment as applicable to achieve significant results to report to the customer and provide constructive feedback on all testing setups as necessary. 
• Prepare prototypes of components, assemblies, and systems of either new or current product as well as maintain and create policies and procedures and/or written test plans for work requests; assure that the prototypes specifications are established. 
• Oversee the safe and proper operation of required machinery and equipment. 
• Perform inspections and installation of parts and components on test samples, maintain accurate records of the installation of these components and the collection of test data. 
• Perform inspections on a manner consistent with the Company's guidelines and procedures. 
• Ensure all team members meet deliverables within timeline and budgetary constraints and intervene when appropriate. 
• Contribute to the development and execution of emerging and/or required destructive, electrical, and environmental battery tests. 
• Work with various advanced and historical battery chemistries including Li-Ion, Lead Acid, Alkaline, Nickel Metal Hydride, and Flow Batteries among others. 
• Interact directly with customers to understand their needs and translate it into requirements. 
Qualifications and Skills 
Education/Experience/Qualifications: 
• B.S. degree (M.S. or equivalent experience preferred) in Electrical, Systems, or equivalent Engineering program. 
• Previous experience in advanced product/applications-based testing and evaluation. 
• Previous battery experience required. 
• Previous Supervisor, leadership or Management experience. 
• A solid understanding of the electrochemical + mechanical properties of batteries and energy storage systems, including analysis. 
• Technical advisory (oral and written) along with project outlook/outcome presentation skills. 
• Experience with microgrids and power electronics is a plus. 
• Experience with intellectual property establishment and analysis also a plus 
• Programming and automation experience is a plus. 
• Strong Microsoft Office (Excel, Word, PowerPoint) experience required. 
• Must possess excellent communication, prioritization, attention to detail, interpersonal, and organizational skill sets. 
This job description is intended to convey information essential to understanding the scope of the job and the general nature and level of work performed by job holders within this job, and is not a complete list of qualifications, skills, efforts, duties, responsibilities, and benefits associated with the position. 
Battery Innovation Center is an equal opportunity employer. In addition to EEO being the law, it is a policy that is fully consistent with BIC's principles. All qualified applicants will receive consideration for employment without regard to status as a protected veteran or a qualified individual with a disability, or other protected status such as race, religion, color, national origin, sex, sexual orientation, gender identity, genetic information, pregnancy or age. Battery Innovation Center prohibits any form of workplace harassment.