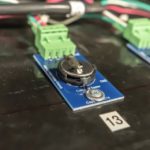 Website TheBICIndiana The Battery Innovation Center
Promote advanced learning and education in the energy sector
To be in compliance with our ITAR status, the candidate must be a US Person, or a lawful permanent resident (as defined by 8 U.S.C. 1101(a)(20)), or a protected individual (as defined by 8 U.S.C. 1324b(a)(3)).
The Battery Innovation Center (BIC) is seeking a Test and Evaluation Lab Technician to join our team to support the growth of our current program base. The ideal candidate must have the desire to work in a unique and flexible work environment with the willingness to apply their experience, expertise, and skills to support the organization. The Test & Evaluation Lab Technician conducts, as directed, test and data collection activities of industrial/utility vehicles, related equipment, and component systems, fabricates prototype components and test fixtures for lab and field testing and performs installation and repairs of test equipment and components when necessary.
Essential Functions/Job Responsibilities:
Keeping immediate supervisor up to date on all projects, with regards to project status, completion time, and any problems during the project
Implementing robust test setups for various performance and abusive tests, configuring data acquisition equipment, and conducting tests for new components, assemblies, and systems based on test criteria as established.

Maintaining accurate records of test results; reporting results to the customer and immediate supervisor as necessary.
Creating and implementing test setups for comparative analysis utilizing various types of equipment as applicable.
Preparing prototypes of components assemblies and systems of either new or current products assuring that the prototypes meet the established specifications.
Safely operating required machinery and equipment, following established safety rules, maintaining a neat and clean work area, and following established tool and instrument control procedures.
Working independently and efficiently to meet deliverables within timeline and budgetary constraints
Performing other related duties as required.
Education/Experience/Qualifications:
Associates degree (Preferred) or Two-Year Technical Degree in Electrical Engineering or Technology or the equivalent combination of education and experience
Knowledge of fundamental electrical technology practices and principles
Experience in testing processes and equipment such as multimeters, power supplies, chillers, pumps, compressors, and the like
Must possess demonstrated ability to operate shop equipment including drill press, mill, shear, band saws, Chop saws, Table Saw, Miter Saw, Handheld power tools, Hand tools, Torque wrenches
Must possess the ability to communicate both verbally and in writing
Demonstrated record keeping ability
Willingness to learn, expand capabilities, and strive to consistently exceed expectations.
If you are interested in this position, please apply by sending your resume to info@bicindiana.com
The BIC offers a fantastic and diverse work environment and culture, with competitive compensation and benefits. This job description is intended to convey information essential to understanding the scope of the job and the general nature and level of work performed by job holders within this job and is not a complete list of qualifications, skills, efforts, duties, responsibilities, and benefits associated with the position.
BIC is an equal opportunity employer. In addition to EEO being the law, it is a policy that is fully consistent with BIC's principles. All qualified applicants will receive consideration for employment without regard to status as a protected veteran or a qualified individual with a disability, or other protected status such as race, religion, color, national origin, sex, sexual orientation, gender identity, genetic information, pregnancy, or age. BIC prohibits any form of workplace harassment.