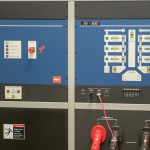 Website TheBICIndiana The Battery Innovation Center
Promote advanced learning and education in the energy sector
US work authorization (Required)
Bachelor's (Preferred)
AutoCAD: 1 year (Preferred)
C: 1 year (Preferred)
MATLAB: 1 year (Preferred)
Full Job Description
The Battery Innovation Center (BIC) is seeking a qualified innovation-focused test engineering professional to join our team. The ideal candidate must have the desire to work in a flexible work environment with the willingness to apply their skills and expertise to all facets of battery testing and evaluation. Preferably, they should be eager to take initiative and capable of working with limited supervision. They will directly interface will all individuals in the organization along with BIC clientele. The BIC offers competitive pay, paid holidays, incentive programs, health/dental/vision benefits, and a Simple IRA plan.
// Responsibilities and Duties //
Essential Functions/Job Responsibilities:
Contribute to the development and carrying out of various destructive, electrical, and environmental battery tests.
Work with various battery chemistries including Li-Ion, Lead Acid, and Flow Batteries.
Work in cross functional team tasked in the process development and generation of battery tests.
Provide technical expertise for developing the appropriate tests and the standards performed against.
Interact directly with our customers to understand their needs and translate it into tests and quotes.
Produce post-analysis reports for the performed battery tests.
// Qualifications and Skills //
Education/Experience/Qualifications:
B.S. degree (M.S. or equivalent experience preferred) in Electrical, Mechanical, or equivalent Engineering program.
Previous experience ( >2 yrs) in product/applications based testing
Previous battery experience required
A solid understanding of the electrical properties of batteries and circuit analysis.
Technical report writing and presentation skills
Experience with microgrids and power electronics is a plus.
Experience with IP establishment and analysis also a plus
Programming experience is a plus
Strong Microsoft Office (Excel, Word, PowerPoint) experience required
Must possess excellent communication, prioritization, attention to detail, interpersonal, and organizational skill sets.
Must be a US citizen
Job Type: Full-time
Pay: $60,000.00 – $75,000.00 per year
Benefits:
Dental insurance
Disability insurance
Health insurance
Health savings account
Life insurance
Paid time off
Retirement plan
Vision insurance
Schedule:
Day shift
Monday to Friday
Supplemental Pay:
COVID-19 considerations:
To know more about our Covid-19 processes, please ask for our Facility Access Document.
Education:
Experience:
AutoCAD: 1 year (Preferred)
C: 1 year (Preferred)
MATLAB: 1 year (Preferred)
battery industry: 2 years (Preferred)
This Job Is Ideal for Someone Who Is:
Adaptable/flexible — enjoys doing work that requires frequent shifts in direction
Detail-oriented — would rather focus on the details of work than the bigger picture
Autonomous/Independent — enjoys working with little direction
Company's website:
Benefit Conditions:
Only full-time employees eligible
Work Remotely: