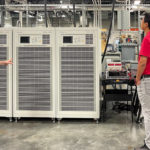 Website theBICindiana The Battery Innovation Center
Promote advanced learning and education in the energy sector
 To be in compliance with our ITAR status, the candidate must be a US Person, or a lawful permanent resident (as defined by 8 U.S.C. 1101(a)(20)), or a protected individual (as defined by 8 U.S.C. 1324b(a)(3)). 
The Battery Innovation Center (BIC) is seeking a Jr. Data Programmer and Systems Support to join our expanding team and support the growth of our current program base. The ideal candidate must have the desire to work in a unique and flexible work environment with the willingness to apply their experience, expertise, and skills to support the organization while continuing to pursue learnings on the job. This position presents a growth prospect where your strong analytical, organizational, and communication skills will be essential. 
The Jr. Data Programmer and Systems Support is experienced in data automation and visualization while supporting and maintaining the Company's technology systems. This person will directly interface with all individuals in the organization by understanding their data needs toward electrochemical and energy storage systems and alleviate process pressure points by ensuring streamlined efficiency of data representation, which ultimately aids in timely deliverables and well-informed decision making for clients. The Jr. Data Programmer and Systems Support also contributes as a key technical resource to maintain databases and data infrastructure, while coordinating cross-functional team efforts. 
This is an exciting opportunity to grow and learn from a strong team of professionals who all collaborate to ensure success across the organization. The BIC offers competitive pay, paid holidays, incentive programs, health/dental/vision benefits, and a SIMPLE IRA. 
Essential Functions/Job Responsibilities (include, but are not limited to): 
• Support, maintain, and improve the current automation of data aggregation, visualization, and analyses into a reporting format for client deliverables (retrospective, current, and prospective data) 
• Develop and publish tools, templates, and analytical models as needed to support efficient, consistent, and high-quality data representation (in collaboration with subject matter experts) 
• Support the development of long-term technologies, strategies, and solutions, including the merging or re-designing of automation systems into one easy-access, outward-facing standard reporting format 
• Ability to provide concise collaboration for a highly technical and diverse team in a complex fast-paced environment through attention to detail, quality control, and adherence to methodological standards. 
• Ability to assist with reviewing, documentation (SOPs), and leading/facilitating trainings. 
• Review diagnostics and assess the functionality and efficiency of systems; implement and monitor security measures, certificates, and compliance of requirements 
• Offer minimal/appropriate technical support: troubleshoot problems; install and update software and hardware; communicate and correspond with external providers; anticipate and report the cost of replacing or updating computer items and systems. 
• Work independently and efficiently to meet deliverables within timeline and budgetary constraints with team members from different backgrounds 
• Support the innovation, growth, education, and outreach of the BIC and our respective partners 
Technical Skills and Competencies (include, but are not limited to): 
• Ability to analyze, interpret, and organize large data sets and relational databases. 
• Strong communication, technical writing, reporting, presentation, and data visualization skills 
• Data aggregation, visualization automation, security, analytics, and UI development skills 
• Strong quantitative skills for critical thinking and problem-solving 
• Strong interest in quickly learning and applying new skills. 
• Ability to adapt to changing priorities and/or situations. 
• Ability to be self-directed and take full ownership for work responsibilities with limited oversight. 
• Excellent prioritization, versatility, attention to detail, record keeping, management, and organizational skillsets. 
Education/Experience/Qualifications: 
• Preferred Bachelor's degree in computer science/engineering, data science/analytics, applied mathematics/statistics, or a related field; directly relevant work experience will be considered 
• Ideally minimum 2 years of relevant project(s) experience in high technology, service, or manufacturing environment 
• MS Office: Excel including VBA, PowerPoint, and Word 
• Microsoft SQL proficiency 
• Substantial and proven proficiency in coding (Python, R, C++, etc.) as well as building and maintenance of databases and full tech stacks 
• Test and automation software and data acquisition experience is a plus 
• Proficient in English 
PHYSICAL DEMANDS AND WORK ENVIRONMENT 
The physical demands described here are representative of those that must be met by an employee to successfully perform the essential functions of this position. Reasonable accommodations may be made to enable individuals with disabilities to perform the functions. 
While performing the duties of this position, the employee is regularly required to talk and hear. The employee frequently is required to use hands or fingers, and handle or feel objects, tools, or controls. The employee is occasionally required to stand; walk; sit and reach with hands and arms. The employee must occasionally lift and/or move up to 25 pounds. Specific vision abilities required by this position include close vision, distance vision, and the ability to adjust focus. The noise level in the work environment is usually moderate. 
BIC is an equal opportunity employer. In addition to EEO being the law, it is a policy that is fully consistent with BIC's principles. All qualified applicants will receive consideration for employment without regard to status as a protected veteran or a qualified individual with a disability, or other protected status such as race, religion, color, national origin, sex, sexual orientation, gender identity, genetic information, pregnancy, or age. BIC prohibits any form of workplace harassment.