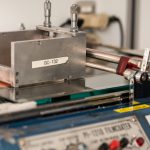 Website TheBICIndiana The Battery Innovation Center
Promote advanced learning and education in the energy sector
Must be U.S. citizen, national, permanent resident, asylee, or refugee to apply.
The Battery Innovation Center (BIC) is seeking a qualified, innovation-focused, materials engineer (MSE) to join our team. The ideal candidate must have the desire to work in a fast-paced, flexible work environment with the interest to apply their skills and expertise to all facets of the battery research and development process. They will directly interface with all individuals in the organization, and externally with our clients, receiving broader exposure to the battery development process via a variety of on-going projects at the BIC, in addition to having their own project to pursue and report on. The candidate will receive mentorship and additional training during the internship, including a focused 3-day class on the energy storage industry.
Essential Functions/Job Responsibilities:
Assembly and electrochemical testing of prototype cells, from CR2032 coin cells, to pouch and 18650 cells
Generate a report, under guidance of BIC technical leads, relating the collective test results of the program
Working with advanced materials (ex. carbons, polymers, metal oxides, electrolytes, and additives)
Fabrication of advanced composite electrodes from raw materials (powder processing, mixing, and coating)
Conduct analysis of battery materials, for example: electrode sample mounting and cross-sectional analysis using optical microscopy and/or SEM. Classes and/or experience in microstructural analysis are preferred, but SEM/rheometer/other training can be provided.
Working regularly in a <1% humidity dry lab
Interact directly with our customers in other on-going cell development projects as part of the cell fabrication team of the BIC
Education/Experience/Qualifications:
Pursuing a degree in Material Science is preferred, but Chemistry or related Engineering (e.g. Mechanical, Electrical, Chemical) disciplines would be considered with relevant demonstrated interests
Classes or experience in microstructural analysis and fundamentals of microstructure-mechanical property relationships preferred
Familiarity with basics of electrochemistry and lithium-ion battery technology
Lab experience
Ability to prioritize, manage, and understand research and analysis techniques, able to apply statistical analysis to make sound conclusions
Technical report writing and presentation skills
Strong Microsoft Office (Excel, Word, PowerPoint) experience required
Must possess excellent communication, prioritization, attention to detail, and organizational skillsets
Cover letters encouraged.
This job description is intended to convey information essential to understanding the scope of the job and the general nature and level of work performed by job holders within this job, and is not a complete list of qualifications, skills, efforts, duties, responsibilities, and benefits associated with the position.
Description:
Battery Innovation Center interns participate in real engineering design projects related to the development and fabrication of advanced energy storage systems. Interns work directly with our engineers to contribute to project goals in fields of cell and pack design, cell and pack manufacturing, electrochemical test setup and data analysis.
Qualifications:
Current graduate and undergraduate students in materials engineering or related fields are invited to apply for this 12 to 15-week program. Internships are available year-round and correlate to the Spring, Summer, and Fall academic calendars. Opportunities are available at our headquarters in Newberry, IN.
Desired:
Students must be currently enrolled in an undergraduate or graduate degree program and have at least one semester of school remaining after the internship.
Students who have obtained a junior or higher academic standing by the start of the internship are preferred.
Battery Innovation Center is an equal opportunity employer. In addition to EEO being the law, it is a policy that is fully consistent with BIC's principles. All qualified applicants will receive consideration for employment without regard to status as a protected veteran or a qualified individual with a disability, or other protected status such as race, religion, color, national origin, sex, sexual orientation, gender identity, genetic information, pregnancy or age. Battery Innovation Center prohibits any form of workplace harassment.