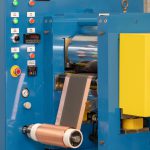 Website theBICindiana The Battery Innovation Center
Promote advanced learning and education in the energy sector
To be in compliance with our ITAR status, the candidate must be a US Person, or a lawful permanent resident (as defined by 8 U.S.C. 1101(a)(20)), or a protected individual (as defined by 8 U.S.C. 1324b(a)(3)). 
The Battery Innovation Center (BIC) is seeking a qualified, innovation-focused engineer to join our team. The ideal candidate must have the desire to work in a fast paced, flexible work environment with the willingness to apply their skills and expertise to all facets of the battery design and development process. The candidate will directly interface will all individuals in the organization as well as externally with our clients. The BIC offers competitive pay, paid time-off, health/dental/vision/ benefits, and a SIMPLE IRA. 
As part of a small, passionate, and accomplished team of experts, this position involves close collaboration with technical personnel across the nation and world-wide to support the commercialization of novel energy storage systems and solutions. On a daily basis, you will work with various advanced/experimental materials, inspect and prepare equipment, identify and address testing constraints, and process and examine data. The job entails hands-on work across battery manufacturing processes. This position will directly impact the future of energy storage and will require your dedicated commitment and detailed attention towards safe and reliable batteries. 
Essential Functions/Job Responsibilities (include, but are not limited to): 
Research, design, analyze, and report on advanced battery products through the process of fabrication, assembly, validation, and electrochemical testing.

 

Work with advanced materials (e.g., carbons, polymers, ceramics, metal oxides, surfactants, solvents, additives, electrolytes, etc.) in our state of the art <1% RH dry rooms and Ar gloveboxes.

 

Fabrication of advanced composite electrodes from raw materials: powder processing, mixing, rheology, coating, and calendering.

 

Assembly and testing of prototype cells: coin, pouch, and cylindrical cells.

 

Generate documentations and technical reports; good record keeping.

 

Interact directly with our customers as part of the cell fabrication team to understand their needs and translate these into their products.

 

Work independently and efficiently to meet deliverables within timeline and budgetary constraints.

 

Support the innovation, growth, education, and outreach of the BIC and our respective partners.
Minimum Education/Experience/Qualifications: 
Minimum Engineering Bachelor degree Materials Engineering or related STEM discipline.

 

1-3 years of experience in a research laboratory/ battery manufacturing facility via industry experience or internships.

 

Proficient in MS Office applications to generate Word and PowerPoint reports based on completed lab work, including graphs and other forms of data visualization.

 

Strong technical report writing, presentation, and oral communications skills.

 

Strong interest in quickly learning and applying new skills.

 

Ability to adapt to changing priorities and/or situations.

 

Ability to be self-directed and take full ownership for work responsibilities with limited oversight.

 

Excellent communication, prioritization, versatility, attention to detail, record keeping, management, and organizational skillsets.
Desired Experience/Qualifications: 
Working knowledge of electrochemical testing methods and lithium-ion battery technology.

 

Hands on experience with powder processing, cell fabrication, and cell testing.

 

Familiarity with battery test equipment such as Arbin, Maccor, Solartron, Bitrode, etc.

 
Physical Requirements: 
Must be able lift up to 40 lbs.

 

Must be able to wear appropriate Personal Protective Equipment (PPE).

 

Must be able work in a laboratory setting and office conditions.

 

Must be able to work a minimum of 8 hours per day and potentially on his/her/their feet for extended periods of time.

 

Dexterity in fine motor skills required.
The BIC offers a phenomenal work environment and culture, with competitive compensation and benefits. This job description is intended to convey information essential to understanding the scope of the job and the general nature and level of work performed by job holders within this job, and is not a complete list of qualifications, skills, efforts, duties, responsibilities, and benefits associated with the position. 
Battery Innovation Center is an equal opportunity employer. In addition to EEO being the law, it is a policy that is fully consistent with BIC's principles. All qualified applicants will receive consideration for employment without regard to status as a protected veteran or a qualified individual with a disability, or other protected status such as race, religion, color, national origin, sex, sexual orientation, gender identity, genetic information, pregnancy or age. Battery Innovation Center prohibits any form of workplace harassment.